The Tamil Nadu Milk Producers Association is demanding an increase in milk procurement prices as fodder prices are spiralling.
In November 2022, Aavin, the government milk cooperative, announced an increase of Rs 3/litre for milk procured from farmers and fixed the price of cow milk at Rs 35 and buffalo milk at Rs 44. But the milk procedures association had demanded an increase of Rs 10.
"The fodder for cattle has increased by 50% since 2019. The price of other essential commodities has also increased drastically. A mere Rs 3 hike is not fair," said K Muhammad Ali, President of the Tamil Nadu Milk Producers Association.
The milk procurement price in neighbouring Kerala is Rs 42 for cow milk, which is Rs 7 more than in Tamil Nadu.
Tamil Nadu milk producers staged a sit-in protest on January 9 at the head office of Aavin in Chennai, demanding the government immediately increase the procurement price and announce the revised price.
PROCUREMENT AND FODDER
Milk producers say despite a fixed procurement price, they do not receive the whole amount due to a lack of nutrients in the produced milk.
"The legal content for standardised milk is 4.3% fat and 8.2% solid non-fat (SNF). But in around 90% of the milk produced in Tamil Nadu, the content would only be about 4% fat and 8% SNF. Thereby, the procurement price reduces by Rs 2 or Rs 3," said Perumal, general secretary of the Tamil Nadu Milk Producers Association.
"In some regions, the procurement price dips down to as much as Rs 24," he added.
Dairy farmers are facing difficulty in feeding the livestock due to the hike in fodder price, and this has affected the produce.
The association demands a 50% subsidy on compound fodder, a mixture of groundnut cake, bran, cotton seed and a few other items.
"Moreover, the cattle feed industries in Erode, Ambur, Madurai and others should be fully functional. Only portions of these industries are functioning at present," said Perumal.
The association also demanded the milk procurement price be fixed every year, similar to other agricultural products.
'IMPROVE AAVIN'
Tamil Nadu Milk Producers Association has also raised concern regarding milk producers moving away from Aavin and toward private companies.
"The private companies are paying anywhere between Rs 5 to Rs 10 more than what Aavin is providing. Thereby, only around 10% of milk produced in Tamil Nadu is given to Aavin," said Perumal.
"Around two crore litres of milk are produced every day in Tamil Nadu. As per the government data, 42 lakh litres of milk is procured by Aavin, but recently it has further decreased to 34 lakh litres," he added.
"In neighbouring Karnataka, one crore litres of milk is produced daily. Approximately 75% of this is procured by the state cooperative Nandini," he said.
"Recently, in Krishnagiri, Aavin paid dairy farmers 60 to 70 days after procuring milk. When this happens, farmers run out of funds for daily expenses, and they move to private companies," he said.
"Aavin should also focus on marketing. In big cities like Chennai, which require several lakhs of milk daily, private companies like Heritage are expanding," he said.
"If this situation continues, it could lead to a step-by-step closing down of the Aavin society," he said.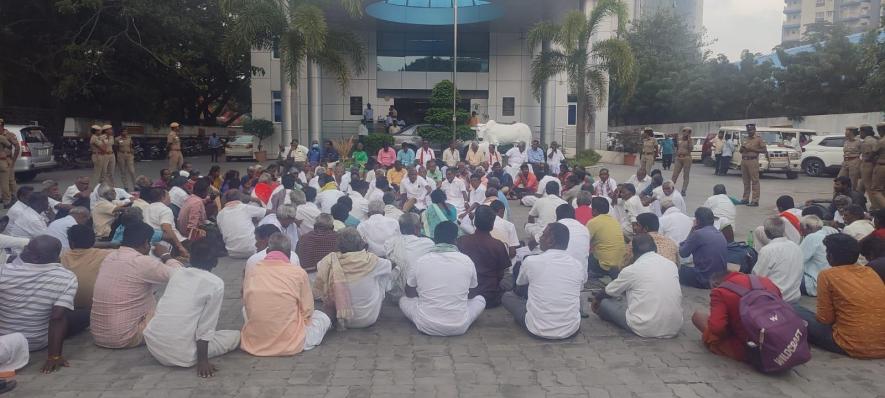 Protest outside Aavin head office. Image courtesy: P Shanmugam
The milk producers' association also observed fraudulent activities in the Aavin society, which should be checked.
Muhammed Ali also said that "despite the 2017 Madras high court ruling, milk is being diluted. The court ordered the state to set up a system to check nutrient content in milk at the time of procurement, but no measure was taken."
Observing adulteration in milk, the Madras High Court in 2017 directed the government to file a status report on the action taken on such complaints.
The Association also demanded infrastructural development for Aavin.
"Aavin does not have sufficient funds to stock the milk by-products such as butter, ghee, etc. It is unfortunate that in the previous festive season, Aavin bought 250 litres of butter from private companies to produce sweets," said Perumal.
Other demands included job security and regularisation of Aavin workers, loans to buy cows and to set aside Rs 500 crore as revolving funds for Aavin.
'BOOST PRIMARY SOCIETIES'
There are approximately 9,000 primary milk cooperative societies and 25 district-level cooperatives in Tamil Nadu.
The state government has a pending amount of Rs 500 crore to milk producers via these cooperatives. The milk producers association demanded this to be disbursed before Pongal, which will be celebrated on January 15.
Perumal said, "A few of these societies have been shut because of loss."
"In Karnataka, an incentive amount of Rs 5 is provided for milk producers by the government cooperative Nandini. This should be implemented in Tamil Nadu as well," he said.
From the milk procurement amount, Rs 1.25 is the margin amount deducted to be spent towards society, such as labour and maintenance charges.
"Given that the amount of milk procured has reduced and because the procurement price is not sufficiently increased, the funds for the primary societies are limited," said Perumal.
Noting that the standard and quality of the functioning of these societies have stagnated, the association demanded a hike of Rs 0.5 margin price for every litre of milk procured.
Tamil Nadu has over 4.20 lakh farmers attached to primary cooperative societies.
Source : Newsclick Jan 14th 2023 by Sruti MD