Over the last decade, India's milk production has grown at an average annual rate of 5.5%. India has emerged as the largest milk-producing country globally, with an estimated production of 208 million tonnes in 2020-21. What is more interesting is that the organized private players are increasing their portfolio in milk procurement. The projections made in the National Action Plan for Dairy Development – Vision 2020 show that as of 2021-22, milk procurement by organized private dairy companies have surpassed the procurement levels of dairy co-operatives. According to the National Dairy Development Board (NDDB) the "overall capacity created by private dairy companies in the last 15 years equals that set up by cooperatives in over 30 years".
There is no authentic data source from where the procurement capacity of organized private dairies can be verified. There is an urgent need for NDDB to step up and collect comprehensive data for the organized private players in India using a systematic way and make it available in the public domain. Data on procurement and processing capacity of the leading organized private dairy companies was taken from interaction with the CEO's, websites and annual reports of respective private companies.
Hatsun Agro Foods Ltd, the largest organized private dairy of India, procured 37 lakh litres per day (LLPD) of milk followed by, Heritage Foods Ltd, Dodla Dairy and Lactalis with cumulative milk procurement of (40-50) LLPD. These companies have invested in building infrastructure to process milk into high value products like butter, ice cream, curd, milk, and cheese. Hatsun Agro Foods Ltd has 20 processing plants and Dodla Dairy Ltd has about 13 milk processing plants to process milk into value added dairy produced spread the across Telangana, Andhra Pradesh ,Tamil Nadu and Karnataka.
Despite its tremendous performance on the production front, Indian dairy sector is constrained by low yields. According to the Organisation for Economic Co-operation and Development estimates (OECD) (2020), the average yield in India between 2017 and 2019 stood at a meagre of 1.3 tons per in-milk animal, substantially lower than the yields recorded by some of the leading milk producers like the United States (10.5 tons per in-milk animal), European Union (7.2 tons per in-milk animal), and New Zealand (4.3 tons per in-milk animal) (see Figure 1).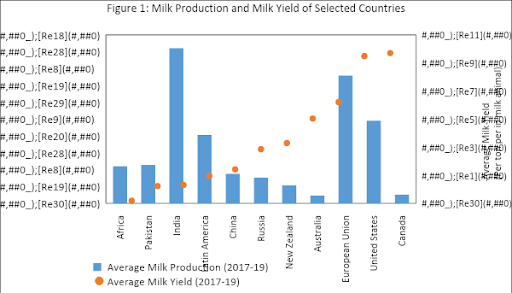 Source: OECD (2020) 
Note: Yield is calculated per milking animal (mainly cows but also buffaloes, camels, sheep and goats)
Low levels of yield can pose a major challenge for the sector to leverage this demand-side potential and meet the growing demand. Emergence of several "dairypreneurs" with innovative and cost-effective interventions at different stages of the dairy supply- chain infuses much optimism for the sector. They aim to tackle the challenges low productivity arising from limited genetic potential and lack of nutrition due to a national shortage of feed and fodder.
Private companies like Genus Breeding India (ABS India), BAIF Development Research Foundation, and JK Bova Genix (an initiative of JK Trust) are heavily investing and developing Assisted Reproductive Technologies (ART). Artificial insemination using the sexed sorted semen and In-Vitro Fertilization (IVF) focus on pre-determining the sex of the offspring and ensure genetic superiority, which has a high milk yield.
BAIF Development Research Foundation, for example, has conducted more than 1,50,000 sorted-semen insemination with a conception rate of 44.3% and 90% female births. For IVF, JK Bova Genix is leading the initiative by offering Mobile Cattle ET & IVF labs at the farmer's doorsteps. They were one of the first organizations to produce 14 IVF calves from a single Gir Donor Cow named 'Radha' in one year. They also achieved a landmark in August 2020 by reproducing the first batch of IVF buffalo calves who took birth on a buffalo farm in the Pune district.
On the feed and fodder front, Hydrogreens, a Bangalore based startup, has come up with a hydroponic green fodder unit "Kambala" that allows farmers to grow fresh green fodder all year round without soil controlled environment and limited water resources. It has set up more than 130 units across the country to overcome the green fodder deficit. A study by Kapoor et.al (2018) on the biotechnological interventions in forage crops found that the recent development in genetic engineering of fodder crops by introducing foreign genes from unrelated species has improved the physical appearance, nutrients, yield, and growing conditions. Organizations like the Indian Agricultural Research Institute (IARI), Indian Grassland and Fodder Research Institute (IGFRI), and the Tamil Nadu Agricultural University (TNAU) have developed many varieties/crossbreeds of the "Hybrid Napier", a cross between Bajra and Napier, over the last few years. 
Source : August 18, 2021, Ayushi Khurana and Ashok Gulati Voices,India TOI