A rapidly increasing number of environmentally-conscious consumers opt for cruelty-free ethical products and brands force large international milk product companies to shift their focus on manufacturing plant-based dairy products.
Globally, the market for plant-based or milk alternatives is one of the fastest-growing segments in the functional and specialty beverages area of newer food product development. These days, consumers are increasingly inclined to choose alternatives to animal (cow, buffalo, goat, and camel) milk due to a range of factors including lactose intolerance, hypercholesterolemia prevalence, allergies to animal milk, and increasing preference for vegan diet. A growing trend is plant-based milk substitutes, which can be cheap alternatives for underdeveloped countries, underprivileged populations, and in areas where there is a shortage of animal milk.
Milk is a key component of dietary requirements in many countries, as it includes several essential elements. Due to its high content of calcium, proteins, and vitamins (A, B2, and B12), three portions of milk are recommended daily in Austria, for instance. However, the production of dairy products has a substantial impact on the environment. Soil deterioration, air and water pollution, and biodiversity loss are the primary environmental problems associated with rearing of animals for the milk production.
Industry players focusing on plant-based offerings
Innovations based on plants are giving enduring dairy brands a new vitality, as they attempt to stand out in their portfolio. Dairy companies are researching vegan alternatives, via in-house R&D and business collaborations to grab more growth opportunities.
On August 16, 2022, the Sudbury plant of Lactalis Canada (formerly Parmalat) announced its plans to stop producing cow milk as of September 30, 2022. The dairy producer also announced that in the coming months, it would transform the Palm Dairy Road facility in the city's eastern section into a facility with innovative technologies dedicated to expanding its line of plant-based milk products.
The addition of plant milk products in the plant-based products category by Lactalis Canada will expand the company's portfolio of plant-based foods, which already includes items, such as Sensational Soy, Lactantia margarine, and Siggi's coconut-based yogurt substitute. These products complement the company's broad range of well-liked, high-quality, nutritious dairy products.
The decision to stop cow milk processing and packaging operations, according to Lactalis Canada, was made because of "a long-term volume decline and increased costs in the fluid milk market in Ontario that have decreased profitability and economic sustainability of Lactalis Canada's fluid operations in Sudbury."
Lactalis Canada will continue to run its refrigerated warehouse in Sudbury and will keep most of its workforce there during the transition period and for its new production facility. Additional employment opportunities are expected with future growth, as the company grows as an integral part of the Sudbury community and is a significant economic and social contributor to the area.
In a statement, firm's president-CEO Mark Taylor said cow milk moving from Sudbury will be relocated to their other operations in Ontario and Quebec, Canada. He stated that neither the supply nor the service will be interrupted. "While dairy remains our primary product," Taylor added that "as a market leader in innovations and as evidenced by our upcoming expansion into plant-based products, we are continuously watching the consumer and looking for chances to innovate and respond to the market."
Similarly, the Netherlands-based Friesland Campina's Valess brand is looking at vegan alternatives to its meat substitutes manufactured from dairy fibre. "Even those who are not vegans can be seen wanting more plant-based foods. Therefore, we aim to provide an expanded range of products to meet that need," said Wieteke Janssen, marketing manager at Valess. Friesland Campina has already made a move to enter the plant-based milk products market. In 2021, the international dairy supplier teamed up with Valio, a Finland-based leader in the global dairy ingredients market, to assess the oat-based milk and yogurt substitute OddlyGood in Finland.
After 90 years, Elmhurst Dairy based in Queens, New York, shut down its dairy business in 2017, claiming a decline in consumer demand for dairy products. The closure is a result of long-term trends in the dairy milk industry, including increasing consumer concern over how cows are treated in the milk industry and growing health awareness over saturated fat, cholesterol, and hormones, which is resulting in year-over-year sales declines. As a result, Elmhurst Dairy has abandoned the term "Dairy" in brand name and changed its name to just "Elmhurst" to manufacture its own line of nutritious plant-based milks in response to the diminishing demand for cow milk.
Additionally, Nestlé, a Switzerland-based global dairy behemoth, is creating a variety of animal milk substitutes made from plants that are wholesome, delicious, and environment-friendly. Consumers, who are lactose intolerant or who follow a vegan or dairy-free diet, can use the plant-based and lactose-free products. Currently, Nestlé sells a wide range of goods produced from rice, oats, soy, coconut, and almonds.
Examples include vegan-friendly Milo in Australia, plant-based Nescafé cappuccinos and lattes in Europe and Oceania, Natural bliss coffee creamers in the US, Nesfit rice- and oat-based drinks in Brazil, and non-dairy Häagen Dazs ice cream. In addition to a variety of non-dairy cheese to go along with its current plant-based burgers, Nestlé has introduced Starbucks non-dairy creamers in US and a vegan Carnation condensed milk substitute in the UK.
Trends and Sustainability Challenges in Global Market for Dairy and Plant Milk
Companies are increasingly developing their own sustainability strategies to appeal to consumers who are environment-sensitive in the worldwide market for dairy alternatives. Environmental damage and greenhouse gas emissions have been criticised on the traditional dairy industry connected to cattle farming.
The dairy industry is one of the top contributors of harmful greenhouse gases (GHGs) that affect the environment. Additionally, compared to the production of fruits and vegetables, animal farming for milk and dairy products has a substantial negative impact on water and environment. Cow milk production is linked to massive soybean agriculture, which has an adverse effect on the environment. Consumer interest in limiting their intake of foods derived from animals is rising for ethical, environmental, and health reasons. The food industry is creating plant-based foods that replicate the nutritional and sensory qualities of animal-based foods.
Food Availability Data by United States Department of Agriculture Economic Research Service (USDA ERS) shows that Americans have been consuming steadily less fluid cow milk per person since the mid-1940s. But lately, the rate of decline has accelerated. The most recent SPINS data, commissioned by the Plant Based Foods Association (PBFA) and The Good Food Institute (GFI) using, has demonstrated that US retail sales of plant-based foods still grew 6.2% in 2021 over a record year of growth in 2020 and reaching an all-time high of $7.4 billion.
Product innovations, as well as increased merchandising space and assortment, continue to be advantageous for plant-based milk. With a rise in absolute dollar sales in 2021, plant-based milk is currently the growth engine for the overall milk category. For reference, data from the PBFA shows that plant-based milk contributed $105 million to the growth while animal-based milk's fall resulted in a loss of $264 million for the total milk category.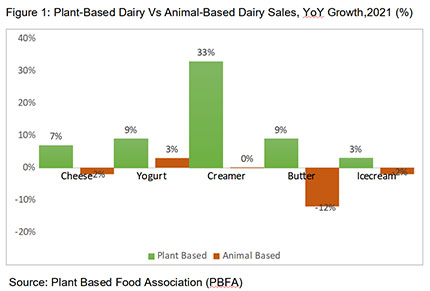 Plant-based milk producers are establishing high standards for innovations and ethical ingredient sourcing by utilising novel and useful components to cater to a wide range of consumer preferences.
For instance, during the past two years alone, oat milk sales have increased significantly, and milk companies are developing innovative products that use sesame seeds, flax, hemp seeds, upcycled barley, pea protein, cassava root, potato starch, mushrooms, bananas, and a variety of nuts, including cashews, coconuts, macadamia nuts, pili, pistachio, pecan, walnut, and hazelnuts. As plant-based milk production may liquify nutrients from a variety of plant sources, opportunities for the variety and unique flavours of plant-based milks are virtually limitless.
Source : Food & Beverage world by Anukriti Verma & Laltu Sinha 15th Sep 2022