The Covid-19 Pandemic caused several hiccups and setbacks for a lot of industries- the economic crisis, trade disputes, disrupted supply chains, and so on. The dairy industry was also impacted and came closer to a point of stagnation. Anticipations are that the dairy industry will grow at a slower pace in the coming years.
However, despite the slow growth, the dairy industry is predicted to witness a rise in certain product segments such as plant-based milk, sugar-reduced dairy, etc., mainly because consumer preferences are shifting in this direction. 
Stagnation happens when innovation comes to a standstill. So amidst all this chaos and shifting consumer preferences, the only edge one can own is innovation—towards building a niche and loyal customer base—that aligns with customer preferences.
But innovation is the second step, first, you have to choose the right niche. The right trend. Prioritize. So, out of all these new markets on the horizon, where should you put your money?
Before you put a finger on it, let's explore which trends are going to be crucial to the dairy industry in 2021. To help you make the best use of this report, we've divided these trends into 3 categories, based on the impact on the domain. And we would suggest you make use of these trends according to what best suits your needs.
Top 11 Trends that will shape the Dairy Industry in 2021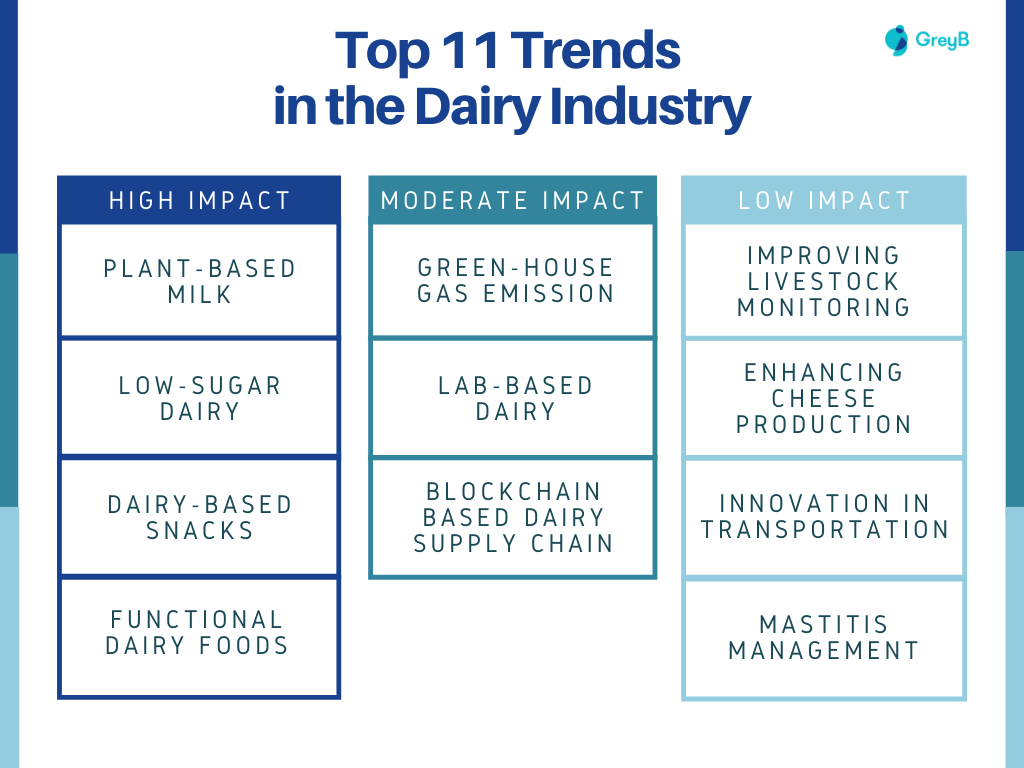 Now, not all these product segments are new, like plant-based milk, low-sugar dairy, or lab-based dairy. But there are some that are slowly and consistently impacting the market. They will continue to contribute to its growth in the coming years. Let's discuss those in brief.
High Impact product segments
The products that fall into this category will have a huge impact on the dairy industry. Let's have a look at these trends.
Trend 1: Plant-based Milk
Traditional dairy sales are declining, so much so that the USA's largest milk producer, Dean Foods, filed for bankruptcy in 2019. On the other hand, the rising interest of consumers has been noted in the alternative to traditional dairy, i.e. plant-based milk. In fact, while the traditional dairy sale was stagnant in the US in 2019, the plant-based milk sale rose by 5%. 
Trend 2: Dairy-Based Snacks
Universities in North America suggested that snack trends premiering in 2020 focus on foods that are diverse, ethically sourced, and convenient to people's busy schedules. 81 percent of youngsters surveyed said they want healthy, convenient snacks that they can grab whenever they like . Data from Dairy Management Inc. shows that morning snacking is now prevalent in 75% of adults and afternoon snacking has gone from 65% of adults to 91%. But this isn't about snacking right?
Indeed snacking is on the rise, but consumers are becoming more and more aware of healthy snacking and this is where the idea of dairy-based snacks emerges. In fact, it offers an opportune moment for the dairy industry in innovating dairy-based snacks. The rich nutrition profile of dairy snacks gives them an edge over other conventional snacks.
Trend 3: Low Sugar Dairy
Low-sugar dairy is another product segment that will see a steep rise this year. This is one segment that hardly needs explaining. Sugar reduction has always been a major challenge for dairy industries. And given the customer preference shifting rapidly to low sugar foods overall, it will certainly be worth observing and innovating in this space.
Trend 4: Functional Foods
Functional foods also referred to as nutraceuticals, are highly nutritious and provide a variety of health benefits along with nutritional value. One of the functional foods that we believe has a chance to grow fast in coming years is fermented dairy products. The sheer number of dairy behemoths investing and researching here is the "subtle" indication. These include companies like Nestle, Arla Foods, Friesland Campina, Yili, Mengniu Dairy, Danone, etc.
Medium Impact product segments
Trends under this segment do have long-term ramifications in the industry. But in the short term, we expect to see less growth in them compared to the high trend ones. Let's touch upon them one by one.
Trend 5: GHG Emissions
Though often ignored, the dairy industry is one of the major contributors to the global GHG emissions; a study from 2017 suggests that the top 20 dairy and meat companies produced more GHGs than all of Germany .
The role of the dairy industry in emissions (and keeping them in check) is further exacerbated by two factors:
the global demand for food is projected to double by 2050; and, 
more than 80% of the world's population consumes liquid or other dairy products on a daily basis . 
The stats clearly indicate that GHG emissions will continue to be a challenge for the dairy industry this year. This warrants a long-term plan from dairy companies to curb it. Consumer preference is also shifting towards greener products, with fewer carbon footprints. So, the more you can reduce GHG, the better you will be appreciated among customers.
Trend 6: Blockchain-based Dairy Supply Chain
The global supply chain disruption has been a cause of distress during the pandemic. Consequently, consumers are looking for more transparency in the supply system. They want to make sure that the product has been handled properly, and their demands aren't met unethically. Blockchain can provide a solution to this problem.
Blockchain in food is not new, Dairy Farmers of America (DFA), a national cooperative owned by dairy farm families across the U.S., have partnered with , a food tech start-up focused on using blockchain technology to transform the food supply chain for data transparency and is testing block chain's capabilities in the area of food and agriculture. Some major dairy players interested in blockchain technology are Nestle and IBM food trust.
Trend 7: Lab-based dairy
Lab-based dairy is another segment that doesn't need explanation. People have become conscious of what they are eating. Due to the growing concerns over animal cruelty, people are looking for alternatives to animal-derived products. That's where lab-based dairy comes into the picture.
Perfect day Inc a California-based start-up, has recreated the proteins found in conventional cow's milk without the use of animals. Another start-up, based out of Singapore, Turtle Tree Labs is using stem cells for producing milk in the laboratory. 
Low Impact product segment
These trends might not play a huge role in the changes that the dairy industry will undergo in the next 2-3 years. Nonetheless, some of these will play a vital role for companies that are trying to solve specific challenges such as livestock monitoring, transportation across long distances, or Mastitis detection. Trends like enhancing cheese production, increasing shelf life, etc. are also cataloged here. Of course, they have been and are in discussion. But the research and investment pattern has been fairly shallow compared to high or medium impact trends. Let's see what they entail.
Trend 8: Innovation in Transporting Dairy across Long Distances
Since global dairy production is disproportionate, milk is transported from countries having high milk surpluses to countries having high milk deficits. But the frozen form of milk with added preservatives destroys the original properties of the products, thus, leading to concerns amongst consumers for such products. Plus, it hurts the company's fresh food branding. New technologies like super-cooling containers that require no preservatives and supply via. Maritime supply chains are being tried to overcome this hurdle.
These innovations are also being patented by the respective companies. For example- the patent CN111513133A by Mengniu Dairy, mentions a milk concentration method that uses osmosis to preserve the milk.
Considering the 12% growth in global dairy exports since 2015, this trend is likely to be an interesting area for the dairy industry in 2021.
Trend 9: Improved Livestock Monitoring
This trend has particularly been untouched by technology up till the past decade. Increased emphasis on livestock disease detection and considerable cost-savings has become the primary driving force of this market. The technological solution providers in this space are integrating the Internet of Things (IoT) and AI to aid farmers in optimizing the health of their livestock using remote monitoring. AniTrack is a Ghanaian startup, which has developed a smart tracking and health monitoring system for livestock.
The government in the US is also moving towards digital livestock monitoring. The decisions that are being planned might completely transform the livestock monitoring landscape in the US dairy industry.
Trend 10: Mastitis Detection
According to the Cornell University College of Veterinary Medicine, the global incidence of bovine mastitis is between 0 and 200 for every 100 cows. Moreover, the University of Glasgow states that bovine mastitis will cost around $19.7 billion to $30 billion in healthcare burden every year (Source). Considering the financial and health-associated burden that could be mitigated with early detection of mastitis, it would be fruitful to gauge how the domain progresses in the forthcoming years.
But of course, if you have to prioritize an R&D budget between dairy-based snacks or Mastitis detection, dairy snacks are a no-brainer choice.
Trend 11: Cheese Production
The Global Cheese Market is expected to reach $164,338 million by 2023, from $136,283 million in 2016, growing at a CAGR of 2.7% from 2017 to 2023. Moreover, the quarantine has shot the sales of cheese-based sauces that enhance taste and are expected to further grow. But consumer's preference has shifted towards low-fat, low-calorie alternatives. Hence the dairy industry, too, needs to move further in that direction. Carbery Group (a global leader in food ingredients) has recently launched Carbery Dairy, which includes various varieties of low-fat cheese.
But if the production of cheese is on your mind, the challenges don't end at low-fat, low-cal alternatives. The slow process time which in turn increases the storage costs are some other challenges that companies need to overcome.