Mumbai, 4 September 2023
Union Minister for Fisheries, Animal Husbandry and Dairying (FAHD) Shri Parshottam Rupala inaugurated the first National Kisan Credit Card (KCC) Conference organized by the Ministry of Fisheries, Animal Husbandry and Dairying, in Mumbai today (September 4, 2023). The Minister of State for Finance Dr. Bhagwat Kishanrao Karad, Minister of State for Fisheries, Animal Husbandry and Dairying and Information and Broadcasting Dr. L. Murugan, Minister for Fisheries, Govt. of Maharashtra, Shri Sudhir Mungantiwar and Minister for Revenue, Animal Husbandry and Dairy Development, Government of Maharashtra, Shri Radhakrishna Eknathrao Vikhe Patil were present on the occasion. The dignitaries also included Secretary, Department of Fisheries, Government of India, Dr. Abhilaksh Likhi; Secretary, Department of Animal Husbandry and Dairying, Government of India,, Ms Alka Upadhyaya; Chief Executive, National Fisheries Development Board, Dr. L. Narasimha Murthy; Executive Director, Reserve Bank of India, Shri Neeraj Nigam; and CGM, Dept of Refinance, NABARD Shri Vivek Sinha amongst others.
Speaking on the occasion, Union Minister Shri Parshottam Rupala urged the banks to to keep minimum check list to approve loans through KCC to farmers. He said that a process similar to DBT scheme should be adopted where state government may identify the farmers eligible for KCC loans. Highlighting the importance of financial inclusion , he urged all farmers to come ahead and reap benefits of the KCC Scheme. On the sidelines of the event, the Union Minister Shri Parshottam Rupala said, Prime Minister decided to extend the benefit of Kisan Credit Cards to fishermen and dairy farmers, which was earlier available only to farmers. The aim of today's event was to promote that scheme and to discuss the challenges with different stake holders from across the country. Till now more than 1.5 lakh fishermen have been proved KCC cards. 29 lakhs to dairy farmers, he informed.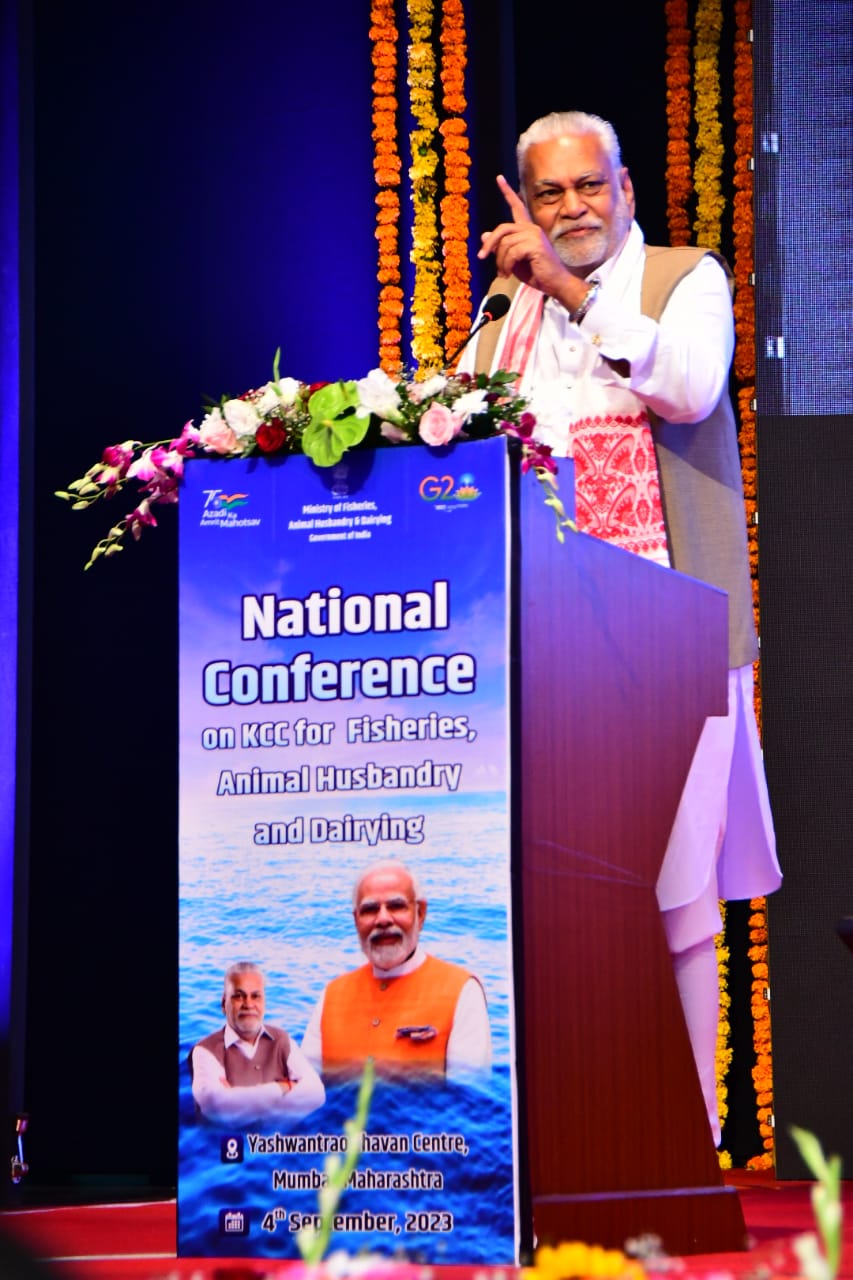 DR. L. Murugan highlighted the plight of the poor farmers who took loan from private moneylenders or sahukars and could not come out of the cycle of repaying debts. He said that PM Modi introduced KCC for them. In this context, MoS, FAHD Dr. Murugan said that KCC is strengthening the rural economic system. Hence KCC needs to penetrate further in rural areas, he added. Dr. L. Murugan also remarked that farmers are the responsible ones and repay their loans on time. He asked the local bankers to take regular meetings to resolve challenges faced in implementing the KCC scheme.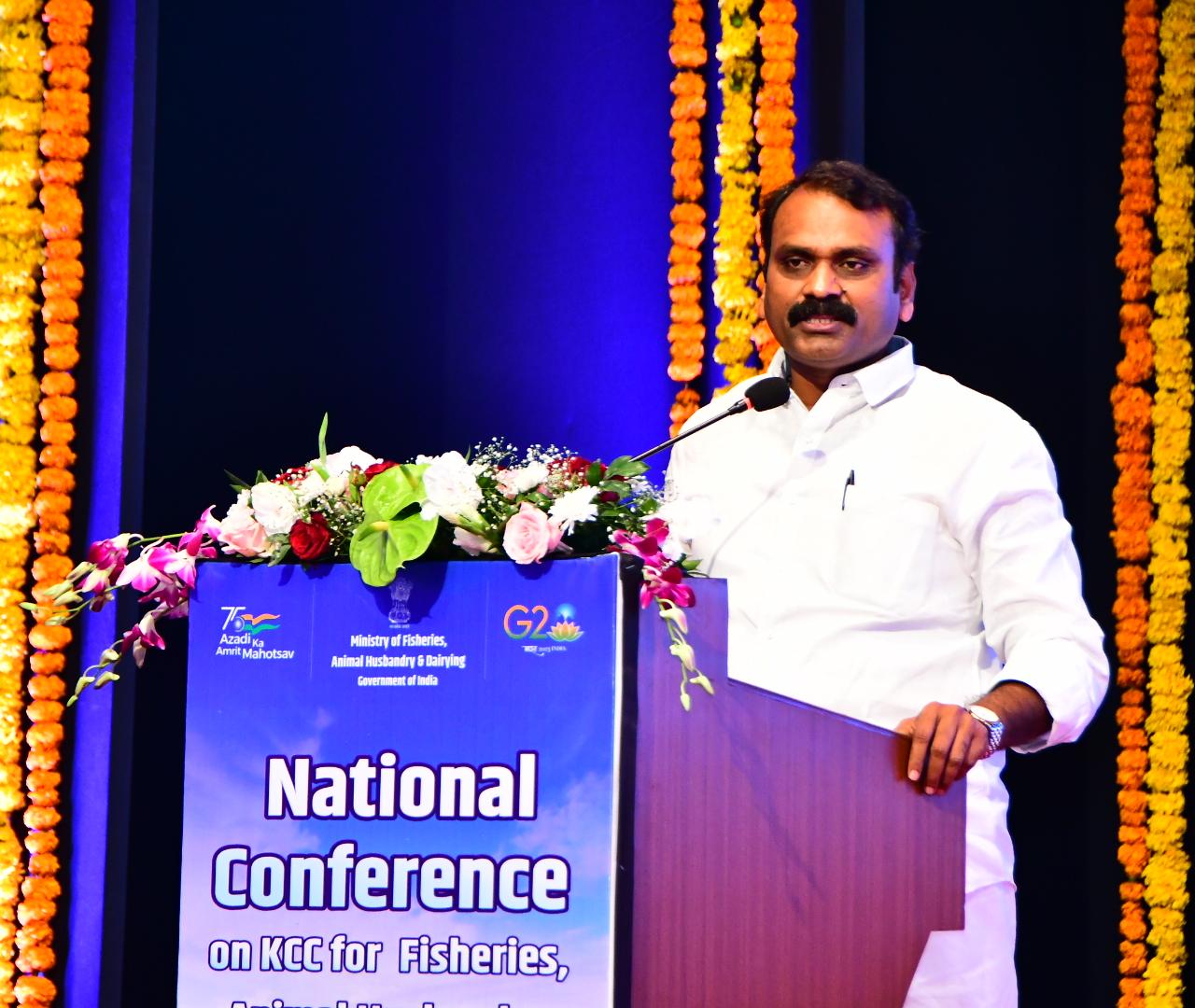 He stated that fisheries play an important role in rural economy, as more are there in fisheries and dairy sector. Speaking of PM's vision 'Seva, Sushashan and Garib Kalyan', he pointed out that financial inclusion plays a major role in 'Garib Kalyan' and includes initiatives like PMJDY, MUDRA Loans and SVANidhi scheme among others. He said, FAHD Ministry is concerned about taking KCC facility to the last man of the fishermen community to bring about further development of the sector. Over the last nine years, fisheries and dairy sector have become self -sufficient, he added.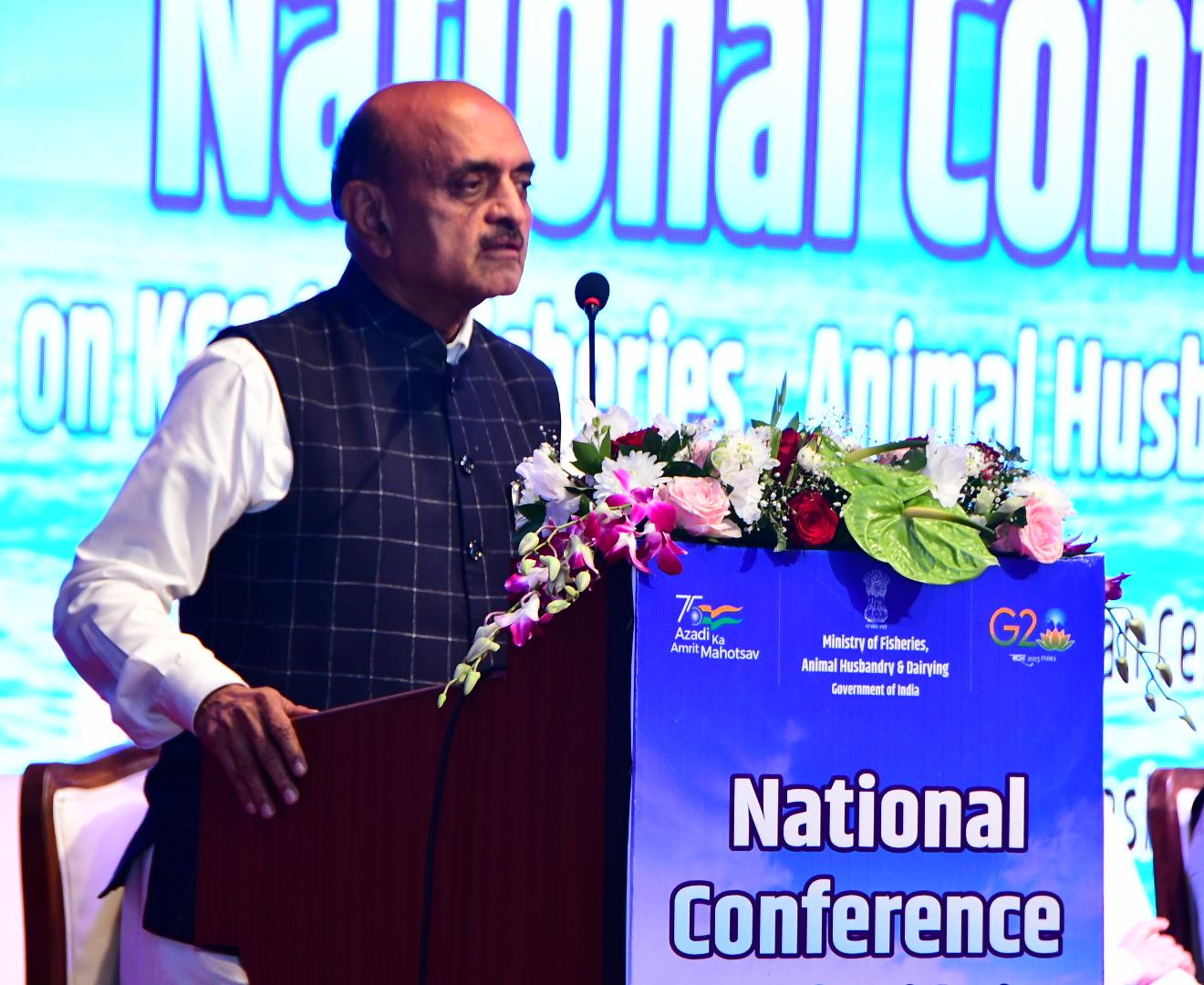 Union MoS for Finance Dr. Bhagwat Kishanrao Karad urged the bank representatives that KCC should be given to fisheries' sector applicants on priority. He also urged them to take a decision for expeditiously clearing all pending applications for KCC, including the applications received from fisheries sector. He also said that reasons should be stated for returning of applications and guiding the applicant on how to re-submit applications so that it gets approved the next time. He urged NABARD to see if some loans from Rural Infrastructure Development Fund may be given to states for development of fisheries sector. MoS (Finance) Dr. Karad stated that farmers have to pay an interest of 3 percent for loans taken on KCC in general, as the Centre provides an interest subvention of 4 percent. He mentioned that Gujarat Government has come out with a scheme by which the state government also pays for the interest and farmers get loans at 0 percent interest and urged other states to study this model for possibility of implementation in their own states.He said that fishermen should be brought under the schemes for street vendors (PM SVANidhi Scheme) as that will be beneficial for them. He urged the banks to work pro-actively for giving out KCC for fisheries, animal husbandry and crop loans. Her urged all stakeholders to reach out to the potential beneficiaries of KCC as it will generate self-employment and self-sustainability.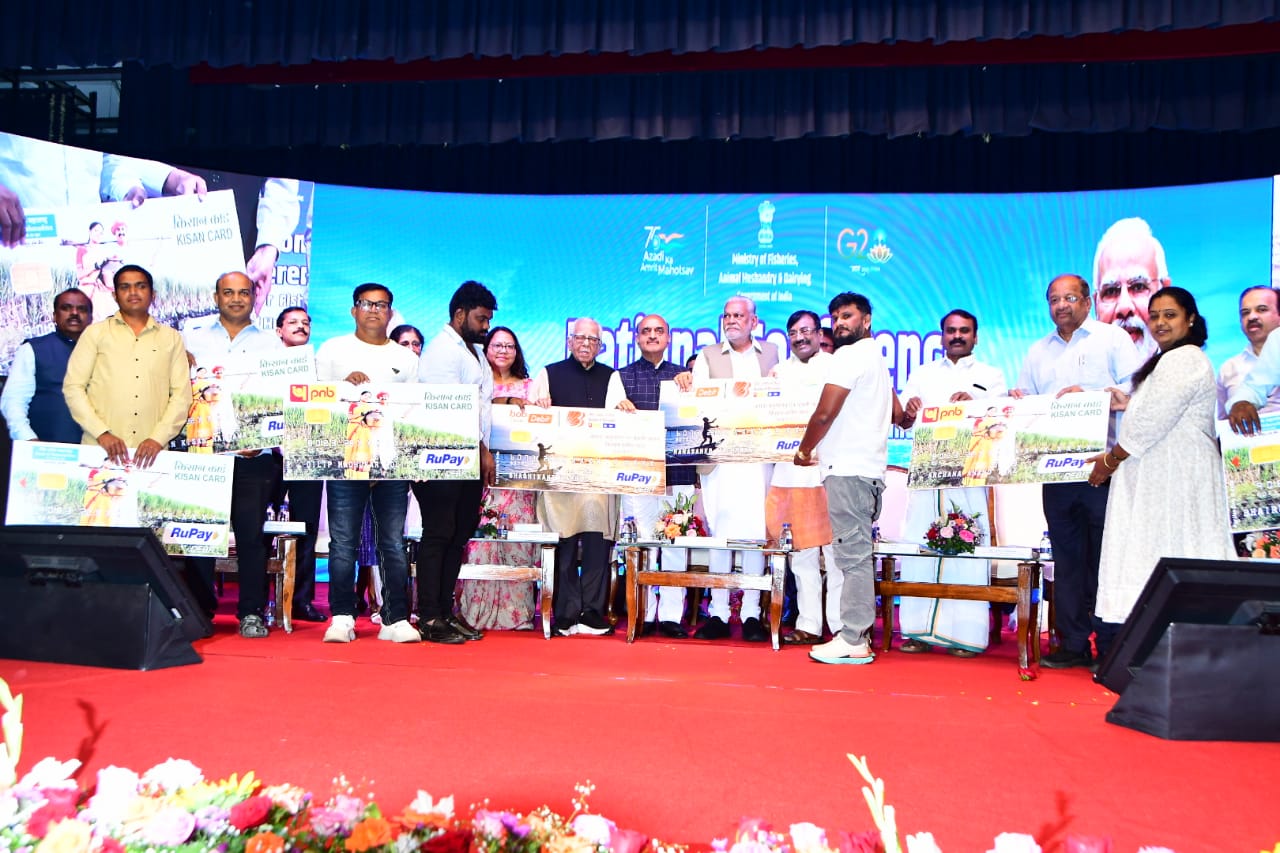 A total of 80,000 participants joined through physical and virtual modes; 35 states/UTs joined from 370 locations with 21,000 fishers and fish farmers, 9000 joined physically and through virtual mode while 50,000 AHD farmers connected through 1000 Common Service Centers (CSCs). ~22 lakh public were reached out through digital, electronic, print media as part of outdoor campaign and publicity material in 7 vernacular languages on Guidelines/SOP were distributed and video on KCC facility for Fisheries was released.
Source : PIB Sep 04th 2023