The Q1FY24 results of Heritage Foods were in line with expectations.
Highlights:
Growth in value-added products
Raw material prices have softened
Higher advertisement spends
Investors with higher risk appetite can accumulate stock on declines
The Q1FY24 results of Heritage Foods
(HFL; CMP: Rs 247; Market capitalisation: Rs 2,293crore) were in line with expectations.
Milk procurement volumes remained flattish while off-take saw a marginal decline. Average milk procurement prices increased by Rs 3.78 per litre to Rs 44.55 per litre. HFL was able to pass on the increase in procurement prices during the quarter. Milk selling prices increased by 11 percent in the period to Rs 54.59 per litre.
In terms of revenues, milk products, value-added products, fats products and ice cream saw an yearly growth of 10 percent, 13 percent, 22 percent and 35 percent, respectively. The share of value-added products is now at 35 percent of the total revenue, as compared to 27 percent in Q4FY23. Due to some seasonal impact, sales of curd and ice cream were impacted during the quarter.
HFL was impacted by inventory write-down amounting to Rs 10.5crore on account of a correction in raw material prices. Adjusted for those, gross margins improved QoQ, in line with the industry trend.
Both gross profit and EBITDA grew higher, as compared to sales growth. Higher interest cost was on account of higher working capital requirement as HFL has kept some inventory for usage during off season. With inventory getting consumed, working capital will be released.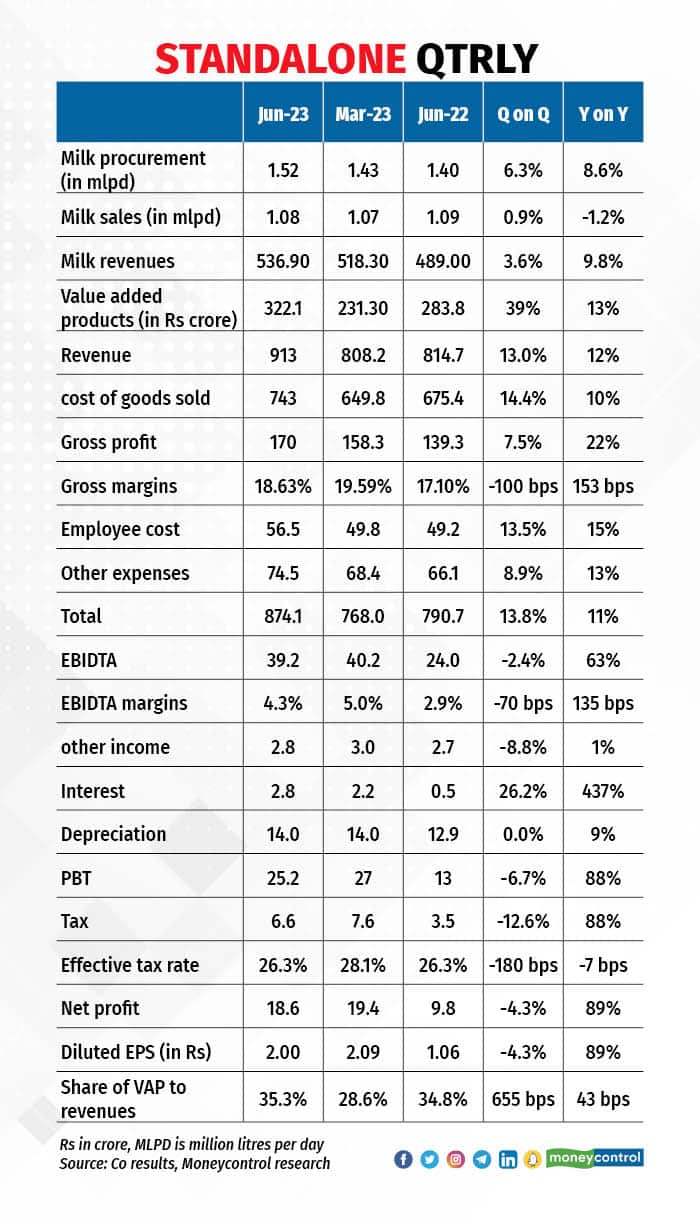 Call highlights
HFL has opened 20,000 retail outlets during the quarter for general trade and more than 1,000 outlets to sell ice cream and value-added products.
HFL launched 10 products in the value-added segments: cold coffee in two new formats — café latte and café mocha — long shelf-life lassi in three flavours, and added two flavours to the heritage ice cream range.
In the June quarter, HFL has seen an addition of 71,500 litres of chilling capacity.
Outlook and valuations
The management has guided that HFL is likely to witness double-digit growth in revenues in the medium term. It would be backed mainly by higher milk procurement and sale of value-added products. Value-added products currently account for 35 percent of revenues. The management is targeting 40 percent in the medium term.
In terms of raw milk prices, we have seen the peak in April-May 2023. After that, milk prices have corrected. In July, raw milk price remained stable. HFL has witnessed cow milk mini flush season (higher milk production) in Maharashtra and Tamil Nadu, and this is likely to continue till June and July 2023. Flush season is again expected from October-November onwards, both for cow and buffalo milk.
The September quarter, in general, is a lean season with lower milk volume while the December quarter is a festive and cold season. This leads to higher sale of fats products. HFL will reduce the built-up inventory during that time.
We expect milk prices to deflate in the rest of FY24, with normal monsoon and the commencement of flush season in October. We also expect recovery in margins in FY24 on the back of a moderation in inflationary pressures, operating leverage, price hikes and higher share of value-added products in the overall revenue pie.
The management plans to revert EBITDA margins back to 7-8 percent on a steady state basis over the medium term on the back of higher operating leverage, price revision, lower milk inflation and share of higher value-added products. HFL is working on its brand-building strategy.
The management is planning to spend 1 percent of overall revenue in FY24 for marketing as compared to 0.3 percent last year.
We have revised our estimate for FY24 and incorporated the FY25 estimated numbers. We remain positive on HFL and recommend long-term investors to add the stock on market declines. The risks to our assumption are an increase in raw milk prices and higher competitive intensity from unorganised players.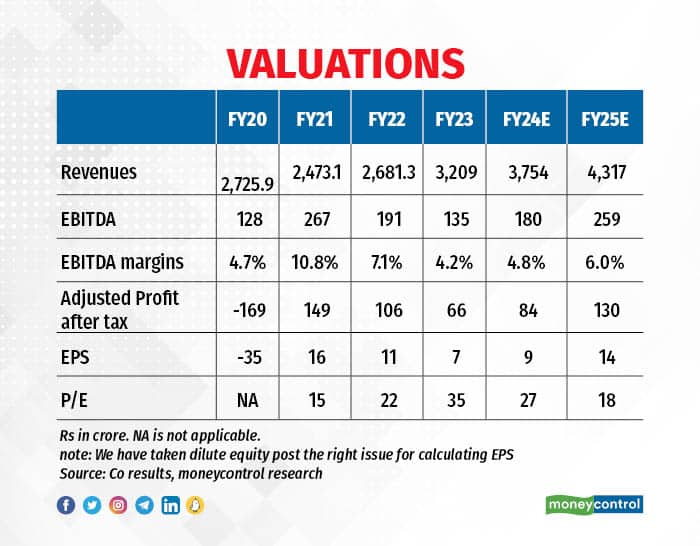 Source : Money control Aug 3rd 2023