Milk and milk products prices have been surging. Ghee has see the sharpest rise, in terms of retail inflation during the last six months, followed by ice cream and baby food. Industry expects milk prices to continue rising.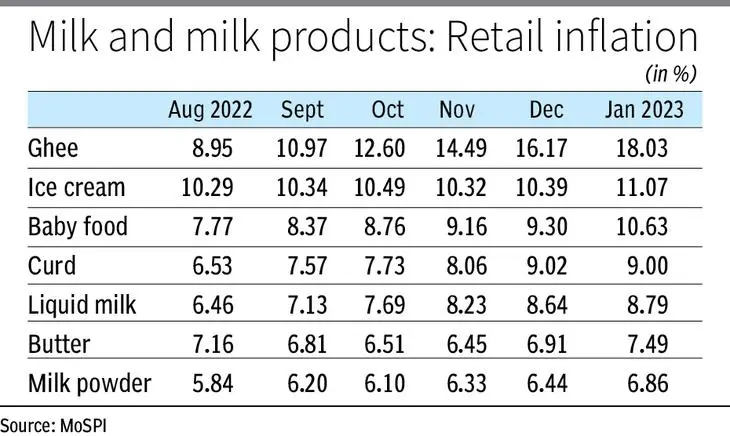 According to the item wise retail inflation data sourced from data warehouse of Statistics Ministry, retail inflation rate for ghee surged to over 18 per cent in January as against 8.9 per cent in August. Inflation for ice cream rose over 11 per cent against 10.29 per cent and for baby food too, it jumped to over 10.6 per cent in January as against 7.77 per cent in August.
Chain effect
Rise in prices of these products can be attributed to a chain effect. Milk, which is the basic input in these entire products, witnessed price hike at least four times since 2022. Producers say they were forced to raise the price as fodder became costlier and poor 'flush' season gave less quantity of milk which in turn lowered the quantity of condensed milk powder.
Manish Bandlish, Managing Director of Mother Dairy said its an unprecedented time for the dairy sector. "We have been witnessing a significant increase in demand of milk & milk products from both consumers and institutions. On the other hand, the procurement prices of raw milk have been consistently firming up owing to rising cost of inputs such as feed & fodder, etc. This stress on raw milk prices is being felt across the industry putting pressure on consumer prices," he added.
Nestle India last week stated that fresh milk prices continue to remain firm due to Lumpy skin disease in the second half of 2022 and rise in feed costs to farmers.
Other input costs
Bhupendra Suri, CEO, Godrej Jersey pointed out that other input costs have also contributed to the rise in milk prices. "The primary packing material cost has increased with rising purchase prices of glass bottle by 23 per cent and increase in pet and plastic film costs by 7-8 per cent Additionally, the shift to paper straw from plastic straw has also increased production costs significantly. Hence, while we are witnessing healthy demand from consumers and institutions, we had to take an average price hike in the range of 6-7 per cent across geographies," he said.
Consumers are unlikely to see any relief in terms of softening of milk prices in the short term.. "We expect the trend to continue till October this year," Bandlish said. Suri added that the industry has still not been able to fully pass on the aggressive milk procurement price increases, increased packing material and operating costs on to the market, leading to compression of margins. "With a rise in milk procurement prices still expected in the coming months, we can expect further hike in milk prices for consumer in the short to medium term," he said.
Source : The Hindu Business Line Feb 22nd 2023