Vegetable prices may have slowly started decreasing, but other food products, including cereals, pulses, spices and milk may only give comfort for a while. The expectation is that August inflation could be in the range of 6.5 to 7.2 per cent.
Data from Consumer Affairs Ministry tabled in Parliament showed divergent price trends for various food products in different States. The North Eastern States are seeing higher prices for many of the products. The Southern States follow close behind.
On Monday, retail inflation based on Consumer Price Index (CPI) surged to 14 months high of 7.4% in July . Interestingly, another data released by the Government showed that producers' inflation based on Wholesale Price Index (WPI) continued to be in the negative zone for a fourth consecutive month at (-)1.36 per cent. It may be noted that composition of two indices gives a different picture. Also, WPI inflation is largely influenced by global commodity prices which have declined, while CPI has more impact from domestic factors.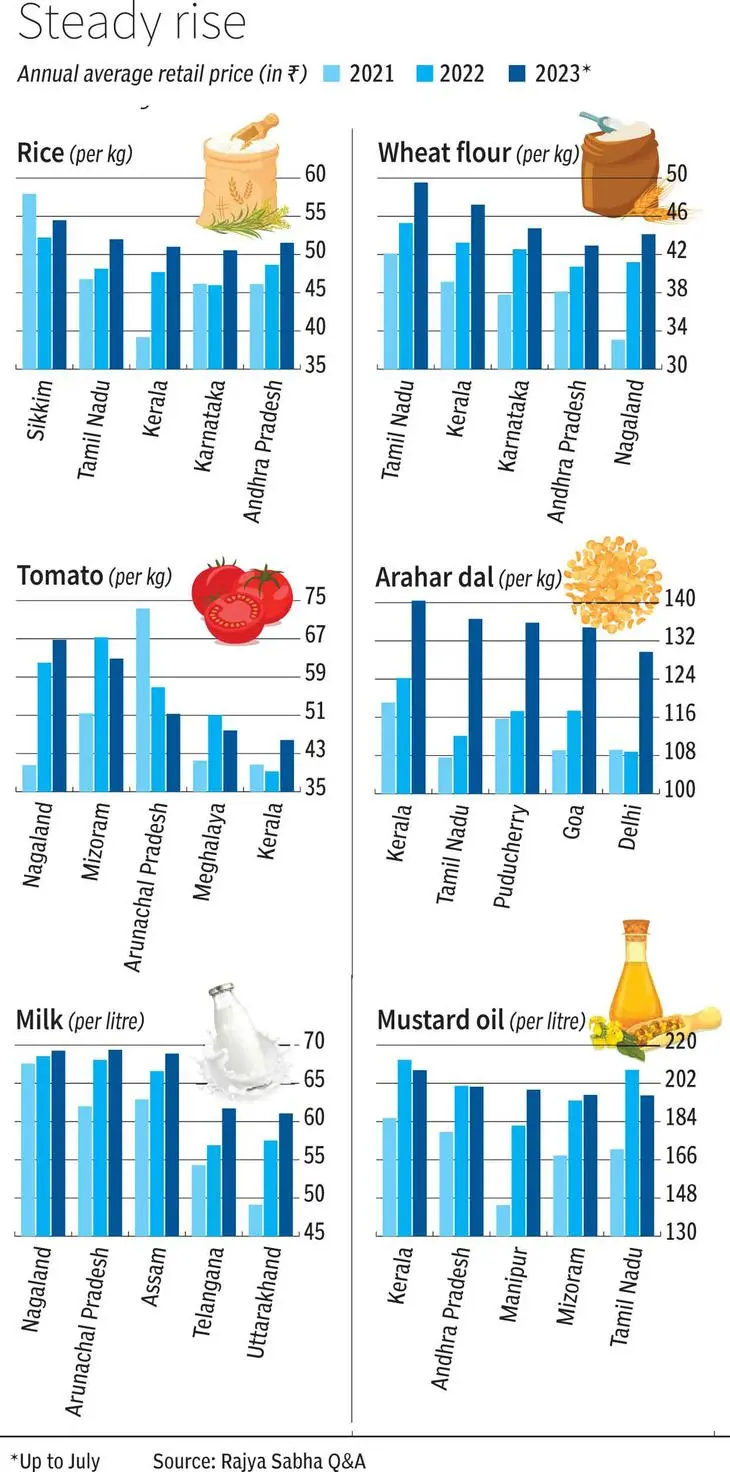 Three domestic factors need to be watched – the sowing of Kharif, the impact of fodder prices, and the spice price situation not looking so good. Aditi Nayar, Chief Economist with ICRA said: "The data for food prices for early August 2023 is not very promising, and we expect the headline CPI inflation to print above the 6.5 per cent mark in August, before cooling off materially in September."
The estimate by HDFC Bank note is higher.
"Tracking the mandi prices in August so far, tomato prices continue to remain elevated and onion prices have inched up as well. We are tracking August inflation at 7.2 per cent so far," it said.
Echoing the sentiment, a note by Care Edge said even though the rise in vegetable prices is transient, the sustained price pressures in categories like cereals, pulses, spices, and milk can keep food inflation elevated in the near term. Higher food prices for longer could impact households' purchasing power and dent consumer sentiment.
According to a note by QuantEco, beyond Aug-23, while volatile vegetable prices may offer relief, the persistence of price pressures, especially for cereals and pulses, will be on close watch. "Pulses prices, especially Tur have risen by 18-20% since the beginning of this fiscal year. This coupled with sizeable downside in area sown for the Kharif crop is already fuelling expectations of further price escalation in the coming months," it said.
The big question now is on policy rate. None of research firms see a revision soon. "Though the moderation in core inflation is reassuring, the possibility of elevated headline numbers in the upcoming months has pushed the expectation of a rate cut by the RBI to the next fiscal," Care Edge said. QuantEco also indicated a rate pause.
"This is likely to be accompanied by a guarded undertone to allow for complete transmission of past rate actions and also to dissuade premature market expectations of a policy pivot as long as inflation projections continue to remain above 5% on consistent basis. This also is likely to push the window for a rate pivot from Q1FY25 to Q2 FY25," it said.
Source : The Hindu Businessline Aug !5th 2023