Cooler weather meant that demand for milk products and value-added items like buttermilk and ice-cream did not show the usual rise.
Between January and March, India was facing a shortage of milk products such as butter and ghee, raising prospects of imports in a country that is the world's largest supplier of liquid milk.
Today, the scene couldn't be more different. Supplies are stable and milk procurement prices in several centres have softened.
Over the past few weeks, industry players say the average buffalo milk procurement price across India has softened about 3 per cent to around Rs 52 a litre against Rs 54-55 in January-March.
Similarly, cow milk prices have dropped 10-13 per cent to around Rs 33 per litre against Rs 37-38 in January-March.
Though procurement prices are still high in some markets, this softening suggests an easing of the crisis for dairy companies.
What has caused this transformation and will it last? Milk industry veterans point to a couple of factors for this U-turn.
First, the fall in milk supplies that typically occur during the lean season (roughly April to September) didn't occur.
That's because the flush season, which should have ended with the onset of summer, was unexpectedly extended.
India usually produces around 550 million litres of milk per day (assuming an annual production of 220 million tonnes).
This typically goes up by at least 30 per cent during the flush season and stays either flat or falls during the lean months.
This year (FY-24), milk supplies during the lean months have been 5-7 per cent higher than the same period last year.
The principal reason for this is the cooler summer of 2023.
An analysis by the state-run India Meteorological Department showed that from March to May, the country received 12 per cent more rainfall above the norm of 115.9 millimetres.
Most importantly, no part of India (barring West Bengal) suffered a major heatwave spell in this summer season.
In a normal year, 10-15 heatwaves occur over north-west India between April and June, five to seven over east India and three to four over peninsular India.
This cooler-than-expected summer was caused by back-to-back western disturbances and other weather patterns.
Cooler weather, in turn, meant that demand for milk products and value-added items such as buttermilk and ice-cream did not show the usual exponential rise.
Industry players said the spike in demand for festivals and marriages, too, was not abnormal in these months.
Fodder prices, which are a big input in the production cost of milk, have also stabilised from the steep high seen last financial year.
Net-net milk markets have been relatively well supplied so far in the summer months.
The virtual absence of milk exports also played its part in alleviating the looming supply crisis.
In FY23, India exported dairy products worth $589 million compared to $635 million in FY22.
The bulk of these exports took place between the lean season months of April and June.
In FY24 so far, exports have been negligible.
In April and May (the last available data), dairy products exports dropped by almost 40.4 per cent over the same period last year.
This is because dairy and milk product prices are higher in India, with much of the stocks built with milk procured in the January-March period when procurement prices were at record levels.
For example, the international price of skimmed milk powder (SMP) currently hovers at Rs 207 a kg compared with domestic SMP prices of Rs 270-280 a kg.
The cumulative impact of all these circumstances is that Indian dairy companies are currently sitting on around 80,000 tonnes of SMP stocks and butter stocks of around 30,000 tonnes, all of which are good enough to last till the next flush season, starting October-November.
"Things have eased a bit on the milk supplies front from a few months back," said Bhupendra Suri, CEO of Godrej Jersey, makers of Creamline Dairy Products and a prominent milk brand in the south.
So what will the forthcoming flush season look like?
Coming after two consecutive bad flush seasons when supplies didn't jump the usual 30 per cent owing to the underfeeding of animals during COVID-19, high fodder cost and so on, the industry is eagerly looking forward to the FY24 flush.
"By all indications the coming flush season should be a normal one as all past issues of inadequate breeding, underfeeding animals due to low milk prices during COVID-19 are a thing of the past now. But the flush will also depend on how the ongoing monsoon season pans out," said Rahul Kumar, managing director at Lactalis India, a subsidiary of the French multinational that is the world's largest dairy group.
If the monsoons are good, animals have sufficient feed in the form of green and dry fodder.
Does the easing supply crisis mean a much-awaited fall in retail milk prices, which become critical in this big election year?
Industry players said that it might not happen so soon, because most of the stocks and products were built up when prices were high and liquidating them at a lower price will mean a loss.
But an easing of milk supplies and a drop in procurement prices may induce companies to re-start the discounts and sops that several of them had stopped due to the shortage.
If supplies improve further in the flush, a cut-back in prices could be expected too.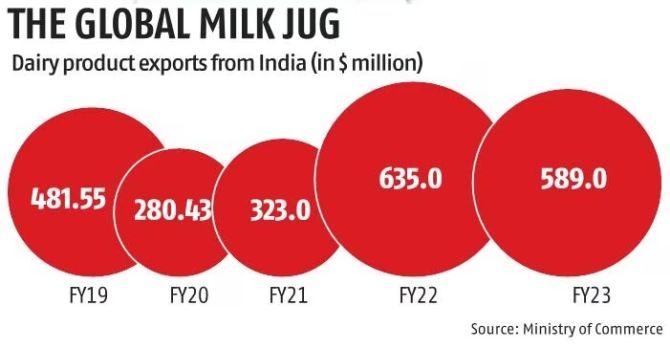 Source : Rediff July 19th 2023 –Feature Presentation: Aslam Hunani